2020 Conservation in Action Tour
JOIN US FOR OUR VIRTUAL 14TH ANNUAL CTIC CONSERVATION IN ACTION TOUR
July 20, August 3, 17, & 24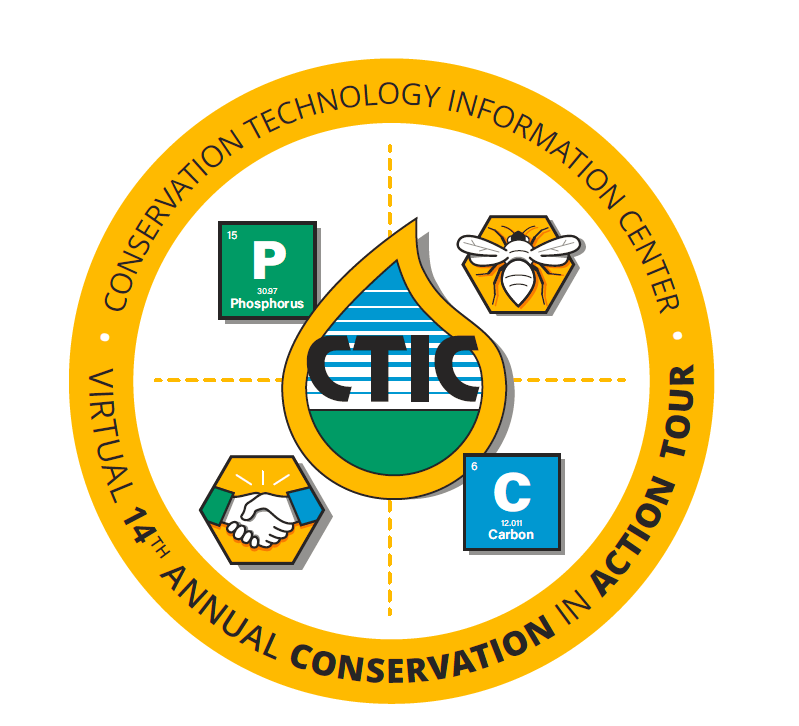 The 14th annual CTIC Conservation in Action Tour will take visitors around the country in a special virtual series of four "stops" in July and August, 2021. The four-part online tour series will be broadcast as part of the American Society of Agronomy's Sustainable Agronomy Conference. Registration is free, and CEUs will be available to CCAs who attend.
Each of the four modules of the 2021 virtual Conservation in Action Tour will feature a video from the field that includes interviews with farmers, crop consultants, researchers and more. The videos will be followed by live panel discussions and Q&A opportunities.
Tour sessions include:
July 20: Carbon markets and new conservation opportunities for farmers;
August 3: Phosphorus credits and BMPs to reduce off-farm nutrient flow;
August 17: Pollinator habitat
August 24: Connecting for Conservation.
Each session includes a 1-hour American Society of Agronomy program beginning at 12:00 pm Eastern/11:00 am Central, followed by our 1-hour CTIC Virtual Conservation in Action Tour beginning at 1:00 pm Eastern/noon Central.
CCAs can earn 12 CEUs for participating in the entire Sustainable Agronomy Conference.
Click here to register free
for the tour and Sustainable Agronomy Conference, and visit our site in July and August for special, online-only content, too!
2021 CTIC Conservation in Action Tour Sponsors include:
Diamond level: Syngenta, Bayer CropScience, The Mosaic Company, Sand County Foundation, National Corn Growers Association, United Soybean Board & Our Soybean Checkoff
Diamond/Social: John Deere
Platinum: Case IH
Gold: J.R. Simplot
Silver: The Nature Conservancy