Past Tours
Conservation in Action Tour 2023
On July 10-11, 2023, CTIC hosted participants in Frankenmuth, Michigan to meet and learn from individuals who are apart of the conservation supply chain.
To start off the tour, CTIC featured producers and farmers that had a strong focus on conservation practices. The afternoon was spent highlighting a fertilizer plant and an organic bean company which really showed the supply chain from all angles. Producers, agribusiness partners, government officials and media professionals from across the U.S. came to see what makes Michigan agriculture so special!
---
Conservation in Action Tour 2022
St. Louis, Missouri
Our 15th annual Conservation in Action Tour was extra-special for several reasons—it was the first opportunity to bring people together after two consecutive pandemic-era virtual tours, and it was a celebration of CTIC's 40th Anniversary.
We kicked off the program in the Trolley Room of the Forest Park Visitors Center with a celebration of CTIC's four decades of bringing people together around conservation farming systems. Among our speakers that evening were Rod Snyder and Bruno Piggott of the U.S. Environmental Protection Agency, Scott Herndon of Field to Market, Liz Hunt of Syngenta, former CTIC board chairs Tim Healy and Rex Martin, Tim Palmer of the CTIC board and National Association of Conservation Districts, Dr. Laura Johnson of Heidelberg University and Jeff Seale of Regrow Ag.
We also launched the CTIC Hall of Fame by inducting three charter members: founder and long-time board member Dick Foell, former CTIC natural resources specialist Dan Towery, and former CTIC executive director Karen Scanlon.
On September 13, we got back on the bus after three years (!) to visit the Illinois Department of Agriculture's Henry White Farm for talks on cover crops, prairie strips, pollinators and soil health. At lunch, Louis Aspey of the USDA Natural Resources Conservation Service filled in the group on the massive and exciting opportunities facing the agency and its partners in helping farmers adopt climate-smart agricultural practices.
A unique afternoon program of panel discussions at the Donald Danforth Plant Science Center engaged guests in talks on up-to-the-minute innovations in soil carbon technologies, remote sensing and data science, and advanced nutrient technologies. A conservation showcase introduced still more innovations, and at the closing banquet, Dr. Don Wuebbles of the University of Illinois shared his deep insight into global climate challenges.
Learn more about CTIC's 40-year history, the new CTIC Hall of Fame, and the St. Louis tour in the
2022 tour notebook.
---
Virtual Conservation in Action Tour 2020
Making Conservation Stick
Kenny and Kay Vollmer, Ryan Sanders and Carrie Vollmer-Sanders are making conservation a multi-generational commitment on the family's operation near Edon, Ohio. In a way, the family has been coming full-circle with its farming practices, reintroducing diversity through cover crops to achieve what generations before had accomplished through more varied crop rotations.
Cover Crop Lessons
Over the years, the Vollmer and Sanders families have learned valuable lessons about making cover crops work on their fields. Watch the video below for their insights.
No-Till: Worth the Wait
Learning to no-till the cool, heavy soils of the Western Lake Erie Basin can be frustrating, but Kenny Vollmer and Clint Nester describe how the challenge has been worth the wait.
Inspiration from Off the Farm
Both Ryan and Carrie work off the farm, too, and find that visiting other operations has provided inspiration and ideas for conservation systems at home. Hear how.
Crop Diversity
The future of the Vollmers/Sanders farm is diversity, say Ryan and Carrie, even though there's currently not much diversity in the local market. Hear their visions of what will be happening 20 years from now on their operation.
---
Conservation in Action Tour 2019
CTIC brought its 12th annual Conservation in Action Tour to central Iowa. The tour theme was, "Conservation at the Leading Edge".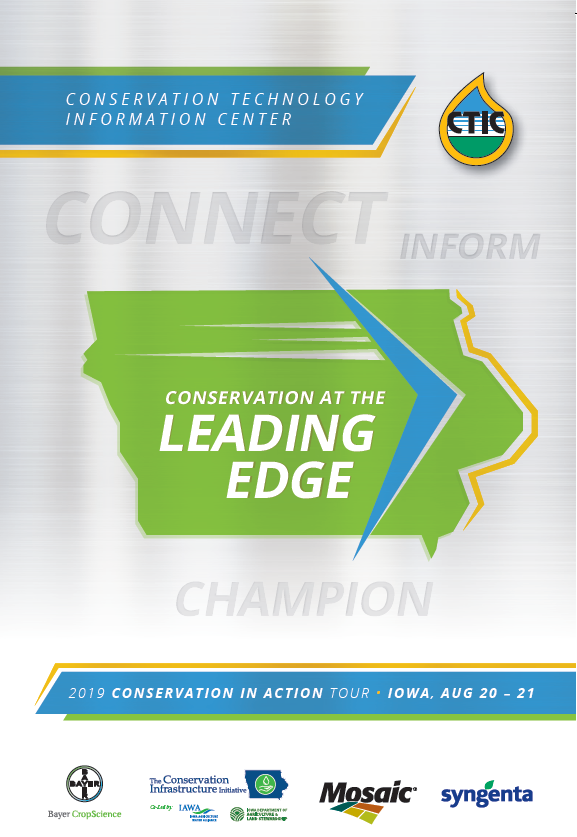 Guided by the Iowa Nutrient Reduction Strategy and led by innovative producers, crop consultants, retailers and researchers, this tour focused on Iowa farmers who are at the leading edge of conservation practices—from the heart of the state's rich cropland to the edges of its fields and the banks of its rivers.
---
Conservation in Action Tour 2018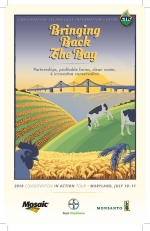 CTIC brought its 11th annual Conservation in Action Tour to the Eastern Shore of Maryland. The tour theme was, "Bringing Back the Bay: Partnerships, Profitable Farms, Clean Water and Innovative Conservation."
The tour highlighted farmers who have taken the charge to protect Chesapeake Bay seriously, voluntarily going above and beyond the regions's regulations to use practices that not only benefit water quality, but also protect productivity and profitability on the farm.
---
Conservation in Action Tour 2017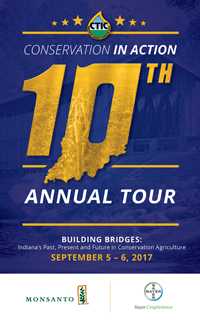 CTIC's 2017 Conservation in Action Tour brought us back home to Indiana, where we saw how conservation agriculture has advanced over the last ten years and explored where it's headed.
Farmers, researchers, policy makers, crop consultants, association leaders and more came together to get a front row view of conservation farming systems in central Indiana.
CTIC visited four different farms who are putting conservation into action.
---
Conservation in Action Tour 2016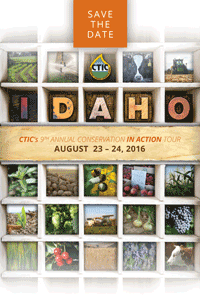 Home to more than 180 crops, southwest Idaho provided tour participants with insight into the latest approaches farmers are using for soil, water and air quality conservation. Highlights included the importance of water management on diversified crop operations, how a feedlot manages their pens, manure, and composting, plus an engineered wetland, the soil building strategies in potato rotations and how one family farm is building the thin soils on their sloping operation through cover cropping, no-till and the reintroduction of livestock to the operation.
Find out more on our tour wrap-up page.
---
Conservation in Action Tour 2015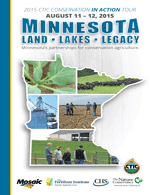 From the cover crops of the Hmong American Farmers Association farm near Hastings to Northfield farmer Dave Legvold's saturated buffers and the impeccable dairy and manure handling system at Burfeind Dairy Farm near Goodhue, participants in the Conservation Technology Information Center's (CTIC) eighth annual Conservation in Action Tour got a first-hand look at systems that protect water quality, build soil health and improve farm profitability.
Find out more on our tour wrap-up page.
---
Conservation in Action Tour 2014
Owls, sugarcane, lettuce, muck soils and more are all part of the "Unique Story of the Everglades Agricultural Area," a tale of farmers working with the ecosystem. Over 150 participants from 20 states heard this unique story. The audience represented numerous roles in the agriculture industry, such as growers, agricultural retailers, members of the media, agricultural and conservation organization representatives, federal and state agency representatives, students and researchers.
Read more and view tour videos, photos and more on our tour wrap-up page.
---
Conservation In Action Tour 2013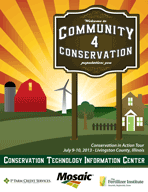 The 2013 tour had record attendance! On July 10, more than 270 producers, agribusiness partners, government officials and media professionals from 20 states visited the Indian Creek Watershed in Livingston County, Ill.
CTIC partnered with the Livingston County Soil and Water Conservation District to showcase a "Community 4 Conservation." Highlights of the tour included:
An Aerial Seeding Demonstration
A Soil Pit Demonstration
Slake test
Equipment on display
The Tiling Demonstration
Click here to read more about CTIC's 2013 Tour.
---
Conservation In Action Tour 2012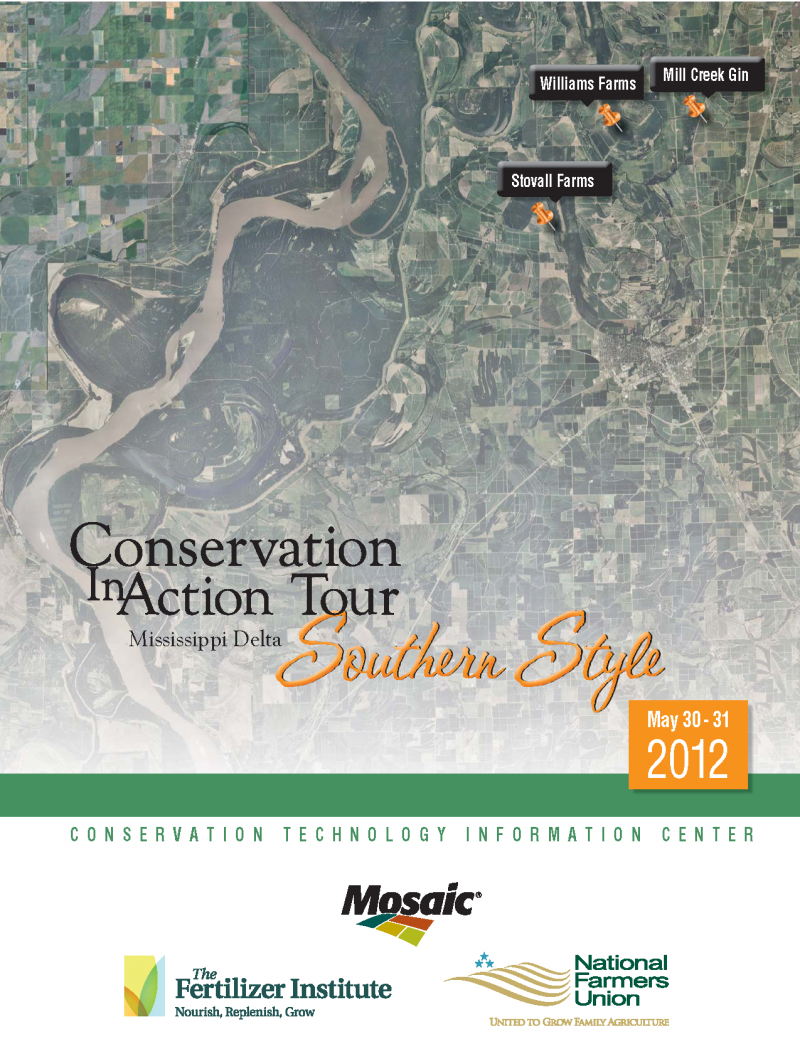 On May 31, 2012, nearly 250 participants gathered in the Mississippi Delta region to meet and learn from farmers who face unique challenges in water quality, herbicide resistance and wildlife management.
The Tour, headed by CTIC and partner Delta F.A.R.M., highlighted innovative conservation practices that producers and partners implement to protect and preserve one of the largest contiguous ecosystems in North America. Producers, agribusiness partners, government officials and media professionals from 26 states across the nation came to Tunica, Mississippi for the informative event.
Click here to read more about CTIC's 2012 Tour.
---
Conservation In Action Tour 2011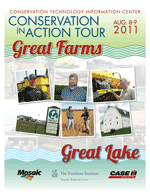 More than 200 farmers, government officials, agribusiness, university and non-profit organization representatives toured Northwest Ohio on Aug. 9, 2011, to see agricultural conservation in action.
The 2011 Tour showcased profitable, innovative farms while participants learned how the producers make conservation an integral part of their operations. CTIC welcomed participants from Arizona, Colorado, Florida, Illinois, Indiana, Iowa, Kansas, Michigan, Minnesota, Mississippi, Missouri, North Carolina, Ohio, Ontario, South Dakota, Washington D.C., and Wisconsin.
Click here to read more about CTIC's 2011 Tour.
---
Conservation In Action Tour 2010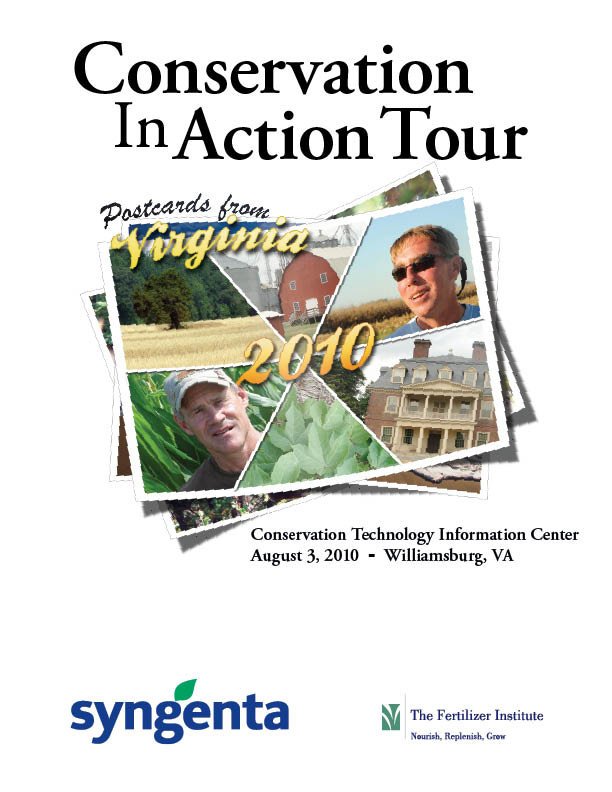 Attendants voted the CIA Tour of 2010 as "The Best Tour Yet!" Approximately 160 participants found out how agriculture protects water quality and improves soil health while on the Tour. The 2010 Tour, which consisted of seven stops, highlighted farms and farmers in east central Virginia who run profitable operations and provide communities with valuable ecosystem services.Click here to learn more about the success of the 2010 Conservation In Action Tour.
See what 2010 participants said about the Tour...
"Today's tour has been the highlight of my professional training for this year! I not only gained very useful CEU's in Soil and Water Management…I got to network with people I have not been introduced to before….this was a great experience."

"I thought this year's tour was focused much more on solutions than merely on practices and that was GREAT!"

"We utilize cover crops on our farm knowing how important they are. I learned so much more today and look forward to putting it into practice. THANK YOU!"
---
Conservation in Action Tour 2009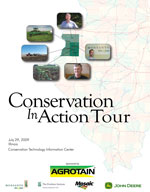 The Conservation In Action Tour 2009 was a success! More than 80 people from 15 states joined CTIC in Western Illinois for a one-day tour visiting three farms and three agricultural facilities. We visited with successful farmers who have mastered innovative conservation practices in their profitable operations, and we learned about new tools and technologies that make conservation agriculture not only good for the environment but good for the farm's bottom line. Click here to learn more about the 2009 Conservation In Action Tour.
See what 2009 attendants said about their Tour experience...
Excellent variety of presentations and the diversity of the group attending."
"What a fantastic day! It's wonderful to see so many groups working together for a great cause. Great hosts, great food, great conversation. I hope this tour continues and grows every year!"
"Great day! Very informative and everyone was well prepared and organized."