NEW OpTIS DATA FROM SATELLITE IMAGERY SHOW 2.5x RISE IN CORN BELT COVER CROPS
FOR IMMEDIATE RELEASE
Contact: Callie North, CTIC (north@ctic.org; (317) 450-9137) or
Steve Werblow (steve@stevewerblow.com; (541) 951-4212)
NEW OpTIS DATA FROM SATELLITE IMAGERY SHOW 2.5x RISE IN CORN BELT COVER CROPS
Corn Belt cover crop acres climbed from 2.8 million to 7.5 million between 2015 and 2021
WEST LAFAYETTE, Indiana (February 2, 2023)—A new tranche of data from the Operational Tillage Information System (OpTIS) tracked a 250% climb in cover crop acreage—from 2.8 million acres in 2015 to 7.5 million acres in 2021—led by row crop farmers in the southern portion of the region. The Conservation Technology Information Center (CTIC), which hosts
free access to OpTIS data
on its ctic.org website, dubbed this week's release "OpTIS 3.0."
"The new OpTIS 3.0 release consists of two elements," notes Dr. Dave Gustafson, project director at CTIC. "The first is the 2021 data, which identify established cover crops and tillage practices across a region that extends from central Colorado to the Ohio border and from the southern edge of Tennessee up to the Canadian border. The second new element is that Regrow Ag, our long-time partner and developer of OpTIS, has improved the algorithm used to analyze the satellite imagery behind OpTIS."
The new data set also indicated that conservation tillage—leaving 30% or more of the soil surface covered with crop residue—was flat to slightly down through the 2015-2021 timeframe, with year-to-year variations that were likely due to spring weather.
Fine-Tuned Algorithm
Regrow developed the computer algorithm behind OpTIS, which analyzes publicly available satellite imagery to track cover crop adoption and conservation tillage trends. Regrow worked with The Nature Conservancy (TNC) and CTIC on the development, testing and application of OpTIS.
Soren Rundquist, OpTIS science lead for Regrow, explains that the algorithm was adjusted to fine-tune its ability to differentiate among cash crops, cover crops and weeds in different parts of the Corn Belt.
"In efforts to enhance the detection of cover crop fields using satellite sensors, the algorithm logic was updated to capture the regional variation on healthy vegetation emergence," Rundquist says. "Changes were applied to data from 2015 to 2021."
As a result of these updates, users can now access interactive maps that allow them to track changes in cover crop adoption and tillage practices between 2005 and 2021. OpTIS data through 2020 have also been run through Regrow's De-Nitrification-De-Composition (DNDC) model to simulate carbon and nitrogen dynamics in the soil.
A webinar on Friday, April 14 will delve into the new data, new algorithm, and an exploration of how people are using OpTIS in their research. Check ctic.org/OpTIS for webinar details in the coming weeks.
Free Online Access
An intuitive visualization tool on the CTIC website (ctic.org/OpTIS) allows users to explore the data, zooming in on watersheds of interest and moving sliders to vary the date range they want to study. OpTIS data are available free on the site at the HUC 8 watershed or Crop Reporting District (CRD) level. CTIC members have access to customized data formats, and finer granularity can be arranged through Regrow via its
Sustainability Insights
platform.
"Since its introduction in 2019, OpTIS has provided agronomists, researchers, agribusiness professionals, conservation groups, policy makers and more with a cost-effective and efficient way to measure adoption trends of soil health practices and their impact on the environment over large geographies and many years," says
Shamitha Keerthi
, science director for The Nature Conservancy's North America Regenerative Crop System Strategy. "We are constantly learning how these data can be used to drive conservation practice adoption, assess environmental outcomes, and track the impacts of policy."
CTIC, TNC and Regrow will continue their OpTIS webinar series this spring. Details will be available at ctic.org in coming weeks.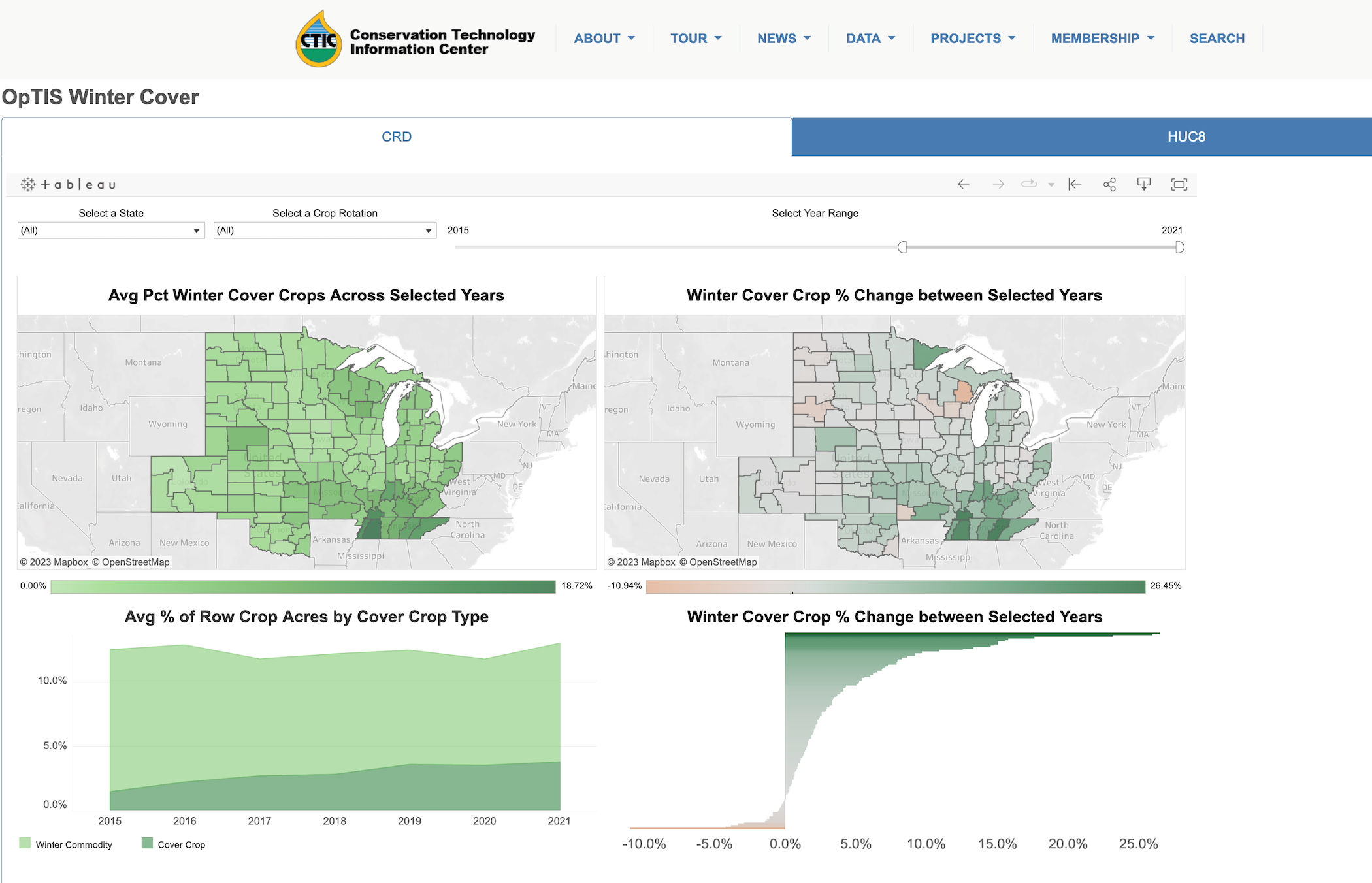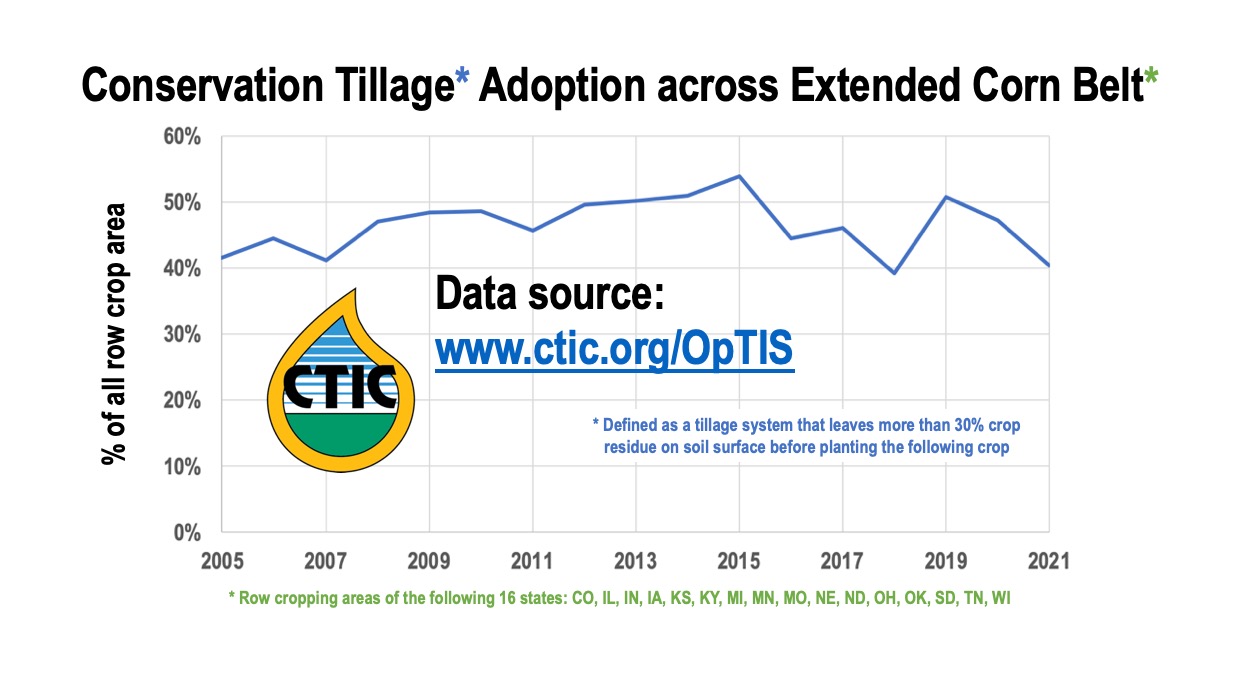 # # #
The
Conservation Technology Information Center
(
CTIC
) is a national non-profit that brings together farmers, policy makers, regulators, academic researchers, agribusiness leaders, conservation group personnel, farm media and others. CTIC connects, champions and informs its members, partners and the general public in support of sustainable agricultural systems and technologies that are productive, profitable and preserve natural resources. CTIC is supported in part by the U.S. Environmental Protection Agency, USDA Natural Resources Conservation Service, farm commodity groups, agribusiness companies, and conservation organizations. Visit
www.ctic.org
and follow on Twitter (@ctic_tweet), Facebook and LinkedIn.
Regrow Ag
is the leading software platform for Measurement, Reporting, and Verification (MRV) and Sustainability Insights in farm supply chains. Regrow's best-in-class SaaS platform leverages satellite data, machine learning, and robust soil modeling to quantify on-farm GHG emission baselines, reductions, and removals, including soil carbon sequestration. These accurate, location-specific measurements empower agrifood companies and other organizations to invest in programs that incentivize food producers to adopt climate-smart, regenerative farming practices and generate high-quality carbon credits for insets or offsets. Learn more at
www.Regrow.ag
and follow on
Twitter
,
LinkedIn
,
YouTube
and
Facebook
.
The Nature Conservancy
(TNC) is a global conservation organization dedicated to conserving the lands and waters on which all life depends. Guided by science, we create innovative, on-the-ground solutions to our world's toughest challenges so that nature and people can thrive together. We are tackling climate change, conserving lands, waters and oceans at an unprecedented scale, providing food and water sustainably and helping make cities more sustainable. Working in 72 countries, we use a collaborative approach that engages local communities, governments, the private sector, and other partners. To learn more, visit
www.nature.org
or follow us on Twitter at
@nature_press
.
Funding for OpTIS
has been provided over more than 10 years by multiple grants from the U.S. Department of Agriculture, a past grant from the Foundation for Food and Agriculture Research (FFAR)

,
as well as matching funds from Bayer CropScience, DuPont Pioneer, Enterprise Rent-A-Car, Ecosystem Services Market Consortium (ESMC), Monsanto, The Mosaic Company, J.R. Simplot Company, Syngenta, the Walmart Foundation, Walton Family Foundation, TNC and others.